METABOX
Gaming Laptops
Unrivalled Performance.
Unmatched Gaming Power.
Australian Gamers #1 Choice
Prime-S 16 Inch Model Pictured
Gaming Laptops Start at $1,059.00
INCREDIBLE GPU POWER
NVIDIA RTX
20 Series
Highend Gaming Graphics Cards
Including Full Powered versions. Built for legitimate frame-rate power.
UNMATCHED CPU POWER
Intel K Series (Overclock)
Up to 8-Core
Desktop i9-9900K CPU
Industry leading CPU power for extreme gaming.
Prime-X 17 Inch Model Pictured
Breaking All Barriers
Unrivalled from CPU to GPU, Metabox Gaming Laptops are unquestionably "The most powerful laptops in the world".
Breaking All Barriers - Performance
CPU & GPU
Innovation, technology and pure computational horse-power. It is the heartbeat of every Metabox Gaming Laptop. Integrating true desktop CPU power, Metabox bring you the worlds first and only range of i9-9900K Octo-Core Gaming Laptops. Along with NVIDIA's Incredible class leading desktop grade 20 Series Graphics Engines, there are no other laptops in the world that come close for power.
From NVIDIA
Up To NVIDIA
&nbsp &nbsp And Everything In Between
GTX 1050 2GB GDDR5
RTX 2080 8GB GDDR6
From Intel
Up To Intel
&nbsp &nbsp And Everything In Between
Hexa Core i7-8750h
Octo Core i9-9900K
Prime-S 16 Inch Model Pictured
Breaking All Barriers - Display Technology
Intense Visual Reality
From ultra high refresh rates, to industry-leading super low (Grey-to-Grey) response times, 4K pixel-dense high resolution's and wide-gamut colour technology, Metabox Gaming Laptops deliver the most visually intensive gaming experience for today's most demanding games.
Breaking All Barriers - Customisation
So many choices...
At Metabox we give you the power to get the most out of your gaming laptop choices. From the type of CPU, to the amount of RAM, to the number and sizes of SSD's or HDD's, to visually intensive Display Panels, Wireless Cards or even the Operating System. It's the ultimate in laptop customisation.
Up To
1535
AC
Killer Low Latency WIFI
Choose
4K
Or
120HZ Or 144HZ LED
Breaking All Barriers - Cooling Performance
Built To Last
At the core of every Metabox Gaming Laptop is an unparalleled cooling system engineered for precise extraction of thermal build up. From independent cooling zones that feature multiple high velocity fans, to ultra high density multi-piped copper heatsinks and micronised diamond thermal transfer compound. As a collective, they operate in synchrony to deliver class-leading cooling power that's unrivalled by any other brand.
Prime-S 16 Inch Model Pictured
Alpha 15 Inch Model Pictured
Gamers On The Move
From cramming in your last gaming session on the dining table to full on battle at your weekend LAN, Metabox Gaming Laptops have been designed to keep you mobile wherever your gaming adventure takes you.
19.9
mm
Thin
2.09
kg
Light
Dimensions for Prime-S 16 Model
Mobility - Battery Life
More than just a gaming laptop
Whether you're working or studying, Metabox Gaming Laptops have been equipped to provide sustained battery power for those that rely on mobility when they're not gaming. So that you stay powered when you need it most.
Mobility - Workstation Power
Feels like a Laptop, acts like a desktop.
Designed for the modern-day power user, Metabox Gaming Laptops ouput to a total of three external displays, independently. Together With the laptop monitor you can have up to four independent displays, running any other content you desire, all at once. Giving you the freedom to convert your Metabox Gaming Laptop into an outright desktop, wherever you go.
Select Your New Metabox Gaming Laptop Series
Alpha Series Gaming
Incredible Power, Unrivalled Value
Starts at $1,059.00
Choose Between
10
SERIES
1050 / 1050Ti / 1060
Prime-S Series Gaming
Ultra Slim, Extraordinary Power, Revolutionary
Starts at $2,149.00
Choose Between
20
SERIES
2060 / 2070 / 2080
Prime-X Series Gaming
There's no equal, Extreme Power begins here...
Starts at $3,399.00
Choose Between
20
SERIES
2060 / 2070 / 2080
Promotions At Metabox
Check Out Our Latest Deals Below & Save! Choose Your Range & Save
The RTX Launch Party SALE!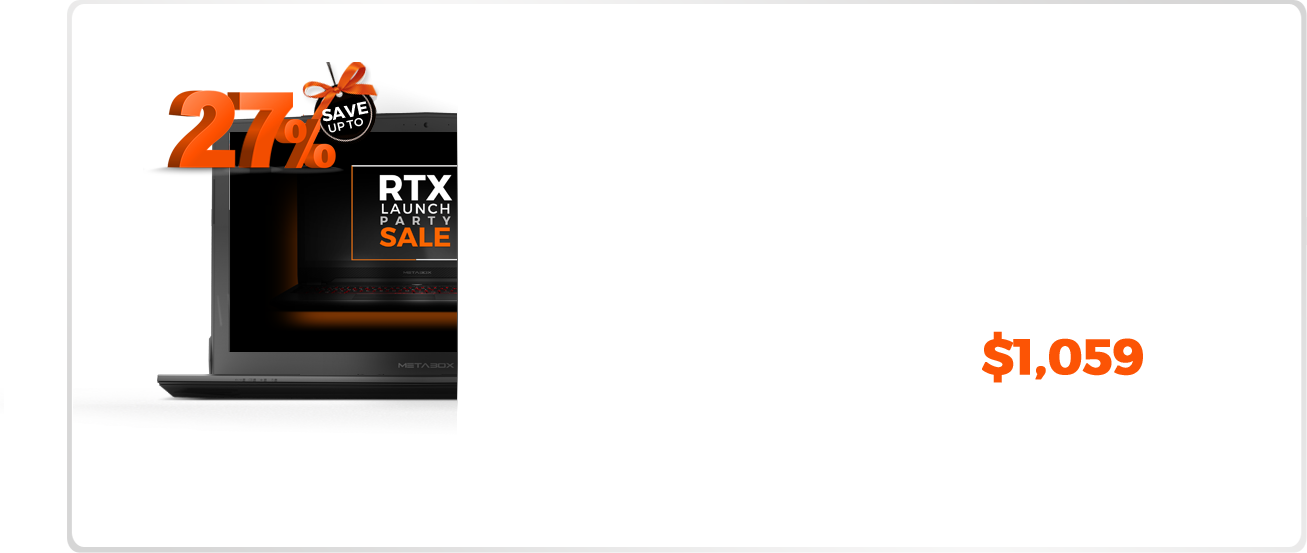 Buy Now & Save!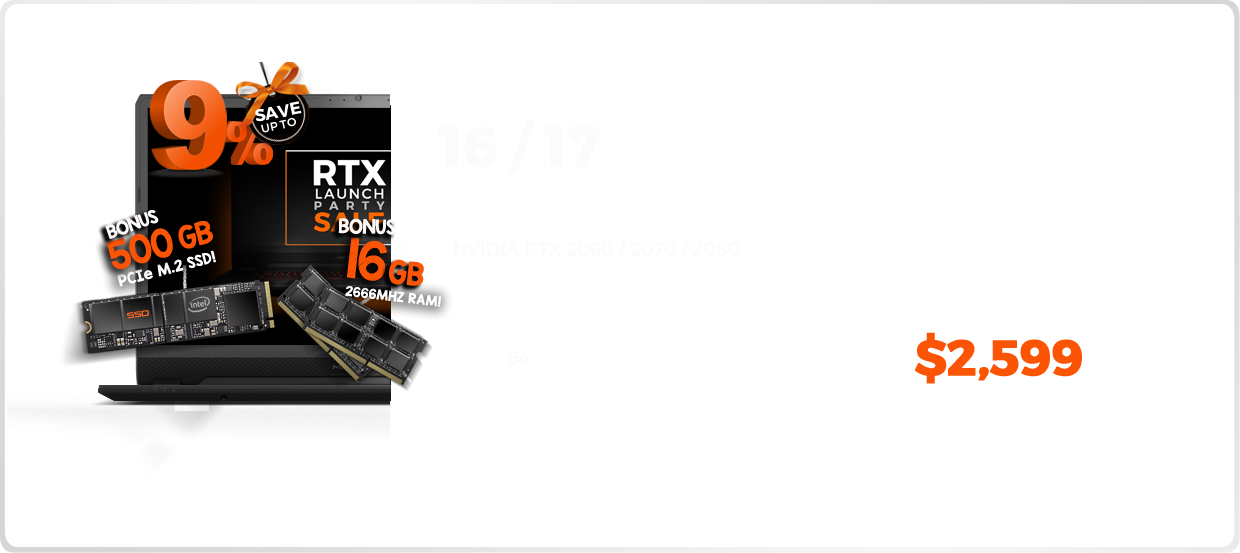 Buy Now & Save!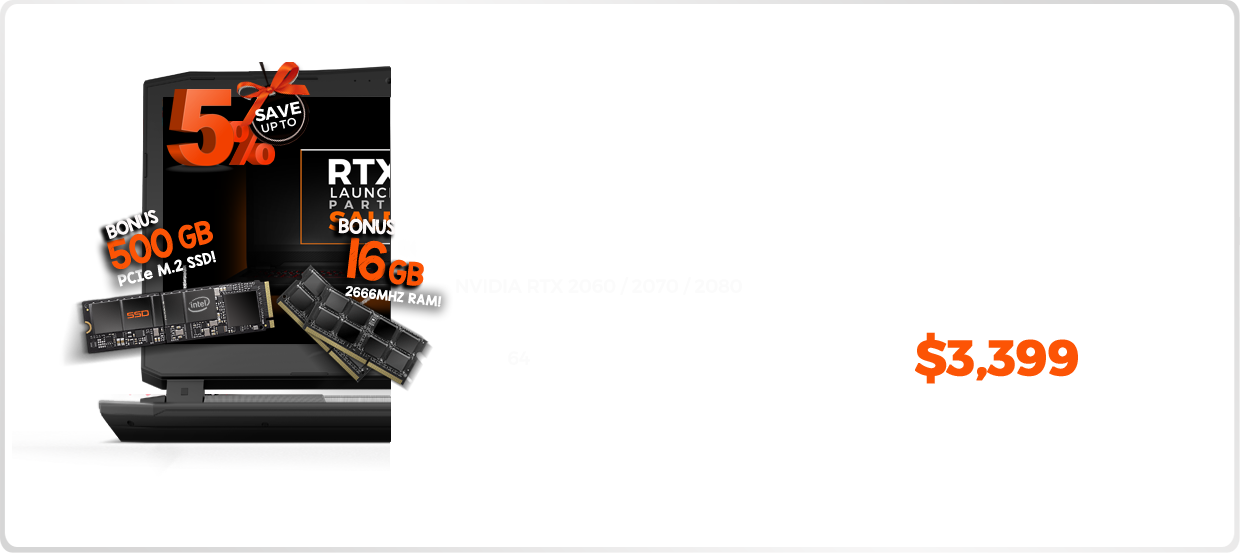 Buy Now & Save!