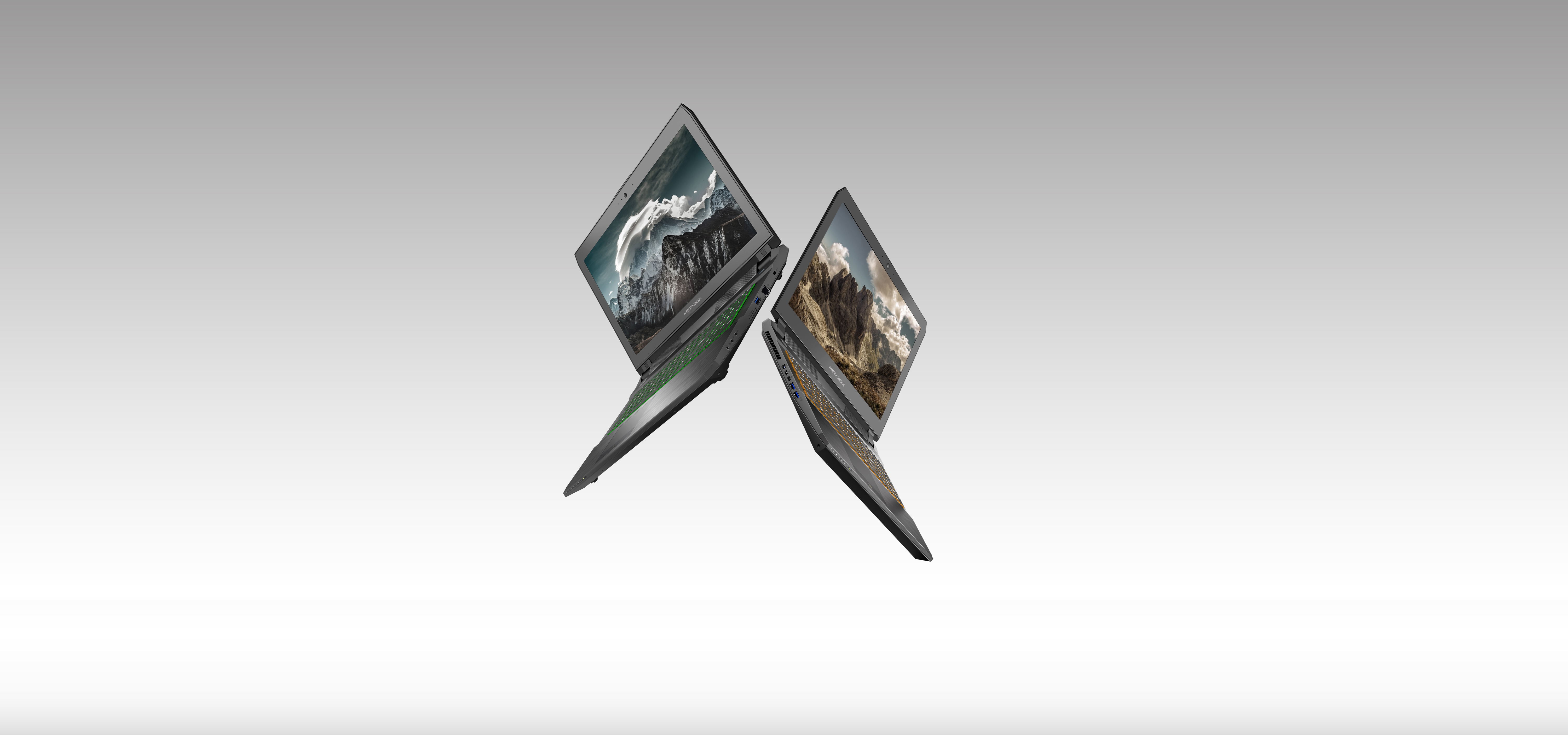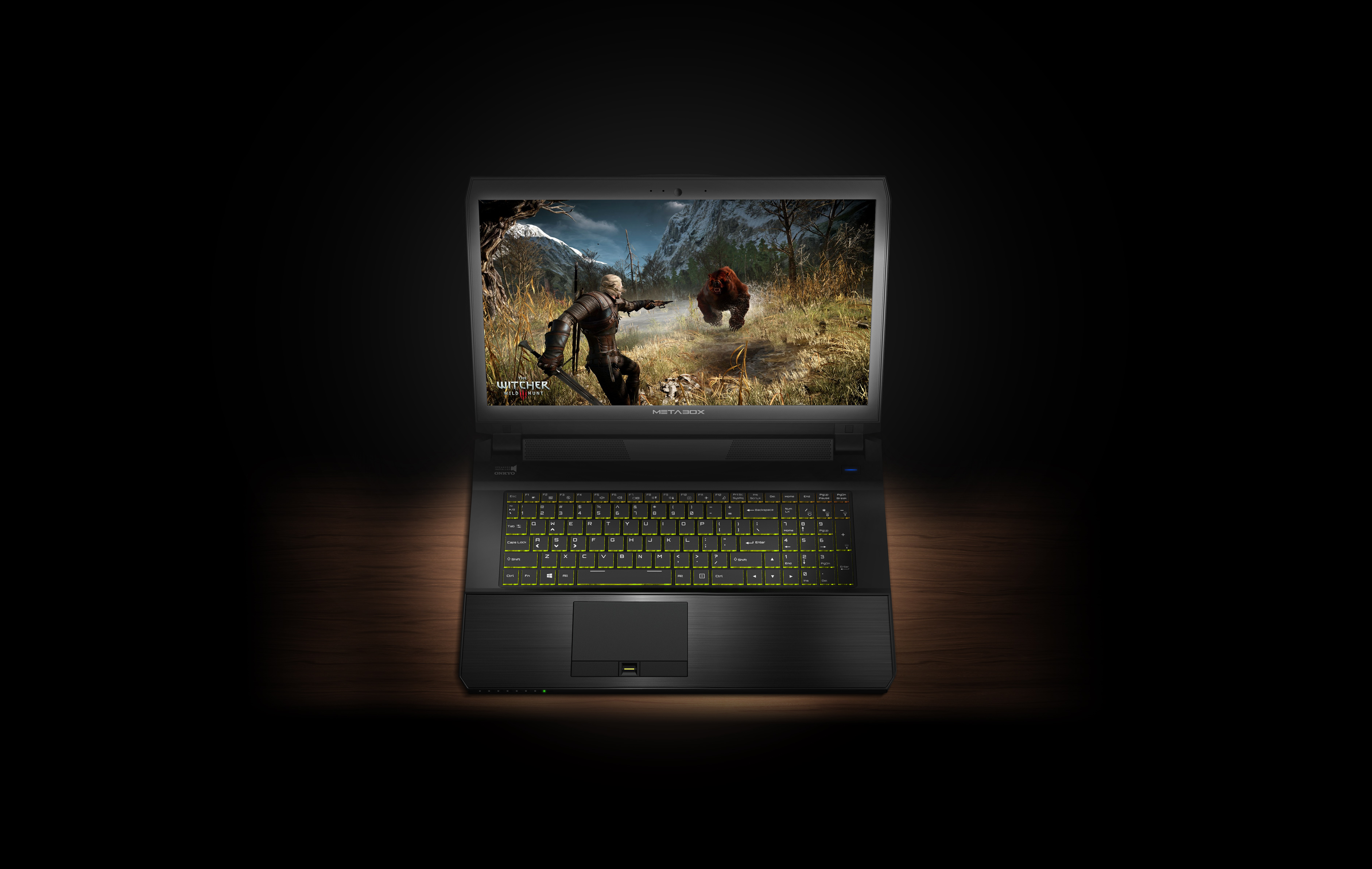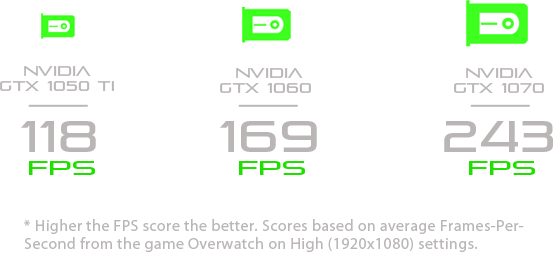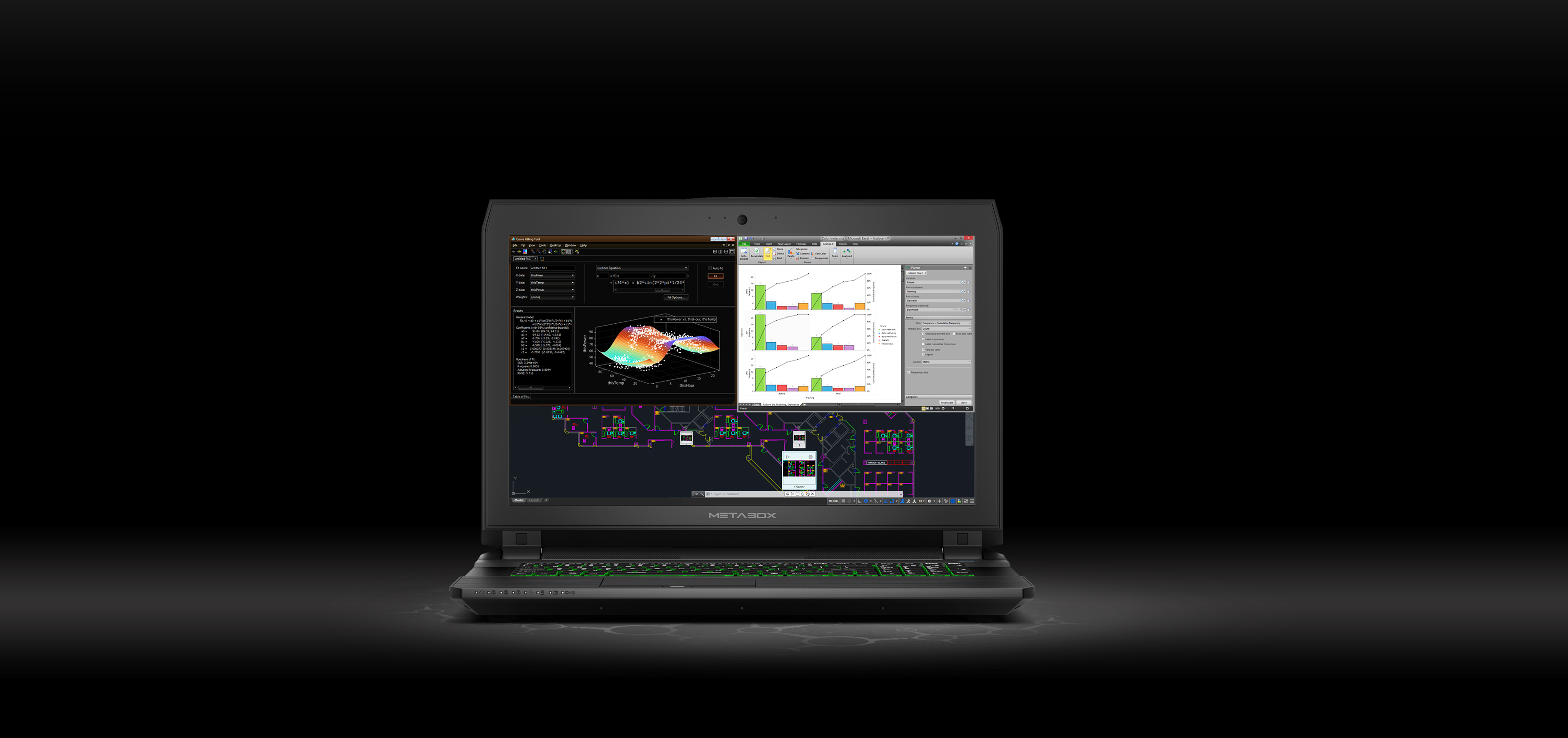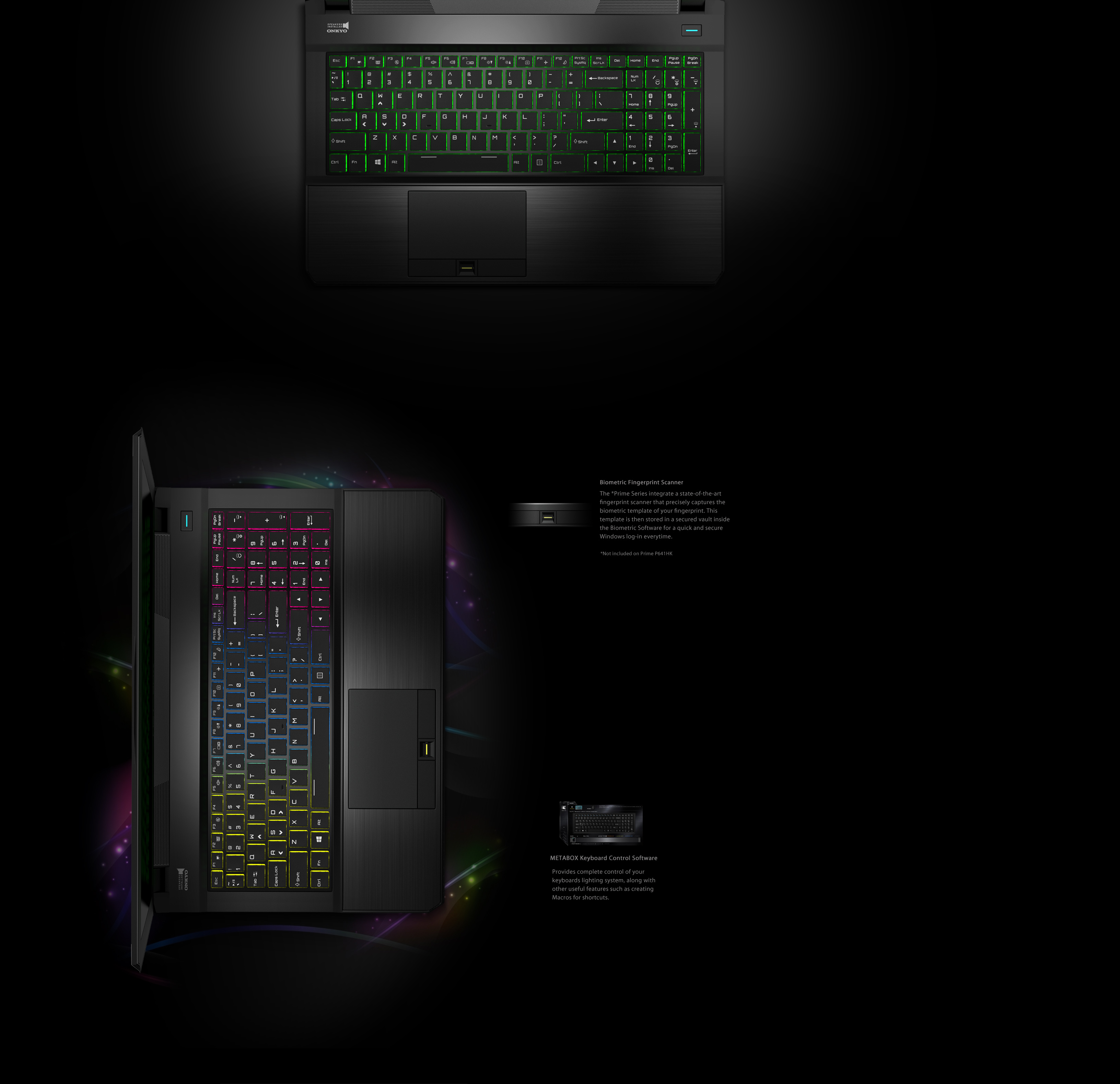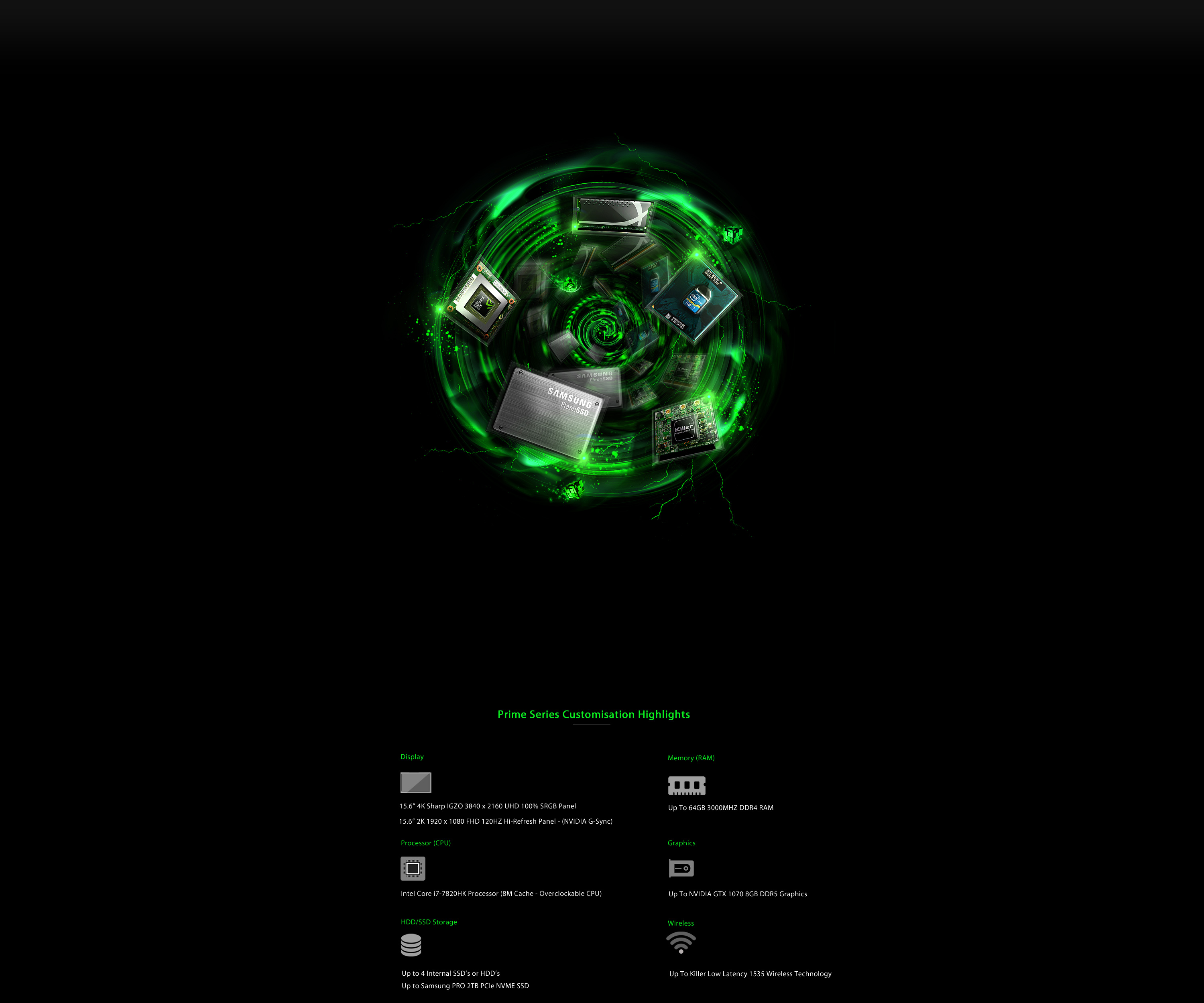 The All New Metabox Prime Series
Computing Heavyweights
That Are Incredibly Lightweight
The all new Prime-Series not only deliver Metabox's trademark blistering performance, but are true desktop-grade systems with incredible mobility. They are even lighter and more responsive than before, yet they offer one of the widest-array of cutting-edge customisation options. They are quite simply the worlds most versatile, agile and technologically-advanced laptops.
Performance & Power - Gaming & Graphics Power
Next-Level Gaming - Highly Evolved & Truly Spectacular
Capture the nuances of every game as though you were really there.
At the centre of the incredible Prime Series gaming core is a groudbreaking new technology from NVIDIA codnamed 'Pascal'. An incredibly advanced graphics processor that has 'for the first time in history', bridged the gap between Desktop & Laptop graphics performance. Unlike conventional main-stream brands, the Metabox Prime Series elevates gaming to an entirely new level, by incorporating a state-of-the-art *Direct-GPU platform, meaning you get user-selectable graphics modes and the closest true 1-to-1 3D performance. This enables the Prime Series to be significantly more dynamic, delivering industry-leading 3D performance in a remarkably agile device. It's gaming & mobility like you've never experienced before.
*Direct-GPU Graphics Mode not available on Prime P641RE
Performance & Power - Evolved Gaming
NVIDIA G-Sync Technology
Ultra smooth and fluid gameplay.
NVIDIA G-Sync's revolutionary smoothness is achieved by synchronising display refresh rates, 1-to-1, with the GTX graphics cards framerates. As a result, eliminating screen tearing whilst minimising display stutter and input lag. What this means is that in-game scenes render instantly, like they are supposed to and objects look sharper. Most importantly, gameplay is incredibly smooth, giving you a stunning visual experience and a serious competitive edge.
*NVIDIA G-Sync option not included on Prime P641HK.
Performance & Power - Processing Power
Power In Every Square-Inch.
Real desktop power taken to a whole new level of mobility.
The new Metabox Prime Series have been engineered from the ground-up, maximising every available square-inch of their internal structure to deliver the ultimate computational power. At the centre of it all is Intel's remarkable all new Quad Core 7th Generation architecture, delivering immense processing power especially when combined with the incredible i7-7820HK Overclockable Processor, which brings core clock speeds to groundbreaking desktop-levels. In addition, every Prime model has the capability to be configured with up to *64GB DDR4 memory including an industry-first 3000 MHZ memory rating, together with up to four SSD's (Solid State Drives) and the worlds fastest PCIe NVME technology. Collectively these state-of-the-art technologies deliver unparalleled performance, making the Prime Series the most hardcore notebooks in their class and in-turn delivering unrivalled computational power wherever and whenever you need it.
*64GB and i7-7820HK option not included on Prime P641HK.
Design - Form Factor
The ultimate travel companion.
The Prime Series redefines the very notion of mobile computing. They are thin, lightweight yet incredibly powerful, transforming how we interact with and use the everyday notebook. With the thinnest model at an incredibly slim 25 mm and only 2.5 kg's light, they are the ultimate combination of power and mobility.
Design - Inside & Out
Alloy Construction & Intelligent Mechanics
We designed the *Prime Series to be aesthetically distinctive yet wonderfully minimal, giving them the versatility to blend seamlessly into any environment. Featuring a delicately brushed highend alloy construction and finished in a beautiful metallic black, the Prime Series exude an exquisite and technological quality. On the inside, they have been masterfully engineered to withstand the wide-ranging rigours of day to day use. From the inteligently crafted *'One-Handed' LCD swivel design which significantly reduces hinge resistance, to the rigid construction of the touchpad buttons that feature a unique 'X' frame underpinning designed to eliminate long-term repetitive wear. It is features like these which are a part of the many creative architectural elements on the Prime Series that make them incredibly robust devices and the ultimate notebook road-warriors.
*Brushed Alloy and One-Handed mechanism not included on Prime P641HK. Prime P641HK includes Alloy Top Cover.
Design - Keyboard
A keyboard that really works wonders.
The Prime Series keyboards are technically brilliant, from their soft touch keys that provide just enough resistance through key-actuation to the precisely measured travel-distance in each key. Making every key-stroke an experience that is incredibly natural and responsive. They are the perfect tool for gamers and professionals who take their craft seriously.
Personalisation is key.
The *Prime Series keyboards state-of-the-art LED light array produces over 1000 incredibly vibrant colours. Split into three distinct colour zones, each zone features a user-selectable colour so that you can adapt each area to a specific task or taste. So whether you're after a flashy or clean appearance, it provides you the unique ability to personalise the keyboard to precisely how you want it to look.
*Prime P641HK features a White Back-Lit keyboard only.
Customisation
A Laptop without boundaries.
We have been at the forefront of tech-innovation for almost two decades. And it's not just producing incredibly high-powered laptops that makes Metabox products such special devices. From the very beginning, the one pivotal element of our brand that really made it possible for us to share our vision of innovation was in our ability to offer a truly customised solution. One that enabled our users to have complete control over how they wanted their laptops to function and perform. And the Prime Series is the very best representation of this ethos. Whether it's the Processor, RAM, Hard Drives & SSD's, Display Panels, Wireless Cards or even the Operating System, the Prime series provides the ultimate in tailoring exactly what you need.